AIRBUNKER cooperates with the largest sports tournament organizers in the CIS and Europe, as well as with professional teams. Today we will talk about one of these teams – Bomba NIX.

The story of Bomba NIX began in 2013. The line-up has changed far more than once – now there are practically no players who started playing in the very first line-up. Is it good or bad?
Andrey Konishchev, the team captain, claims that all the changes were only beneficial. The team was replenished with new talented athletes, each of whom knows firsthand what sports paintball actually is. Recent members joined Bomba NIX in 2017, finishing the period of change in the line-up of the team.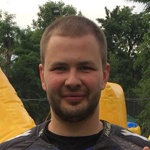 In order to achieve your goals you must always be "hungry", you must always want more. The victory is important for our team, but we enjoy the process.
The name of the team was born from the eponymous name of the paintball club, where future champions began to play. After some time, the guys realized that they wanted more, and discovered the world of sports paintball.
The team has come a long way from amateurs to professionals. In 2017, Bomba NIX took third place in the PROSHAR CUP commercial series. In 2018 – they took second place in the European CPS series. The team also won the title of two-time champions of Ukraine 2017-2018, of bronze medalists of Ukraine 2019 and tried their hand at the most prestigious NXL paintball series.
There is no merit yet that could be boasted in the international arena, but everything is still ahead. To achieve this goal, the team conducts 2 compulsory trainings every week in a rebol center equipped with sports inflatable bunkers. In addition to physical exercises, athletes work out individual technical elements and bundles with shooting.
The Bomba NIX team uses AIRBUNKER inflatables, which have earned a reputation as reliable inflatable bunkers. Compliance of the fields with the standards of the world paintball series, high-density material, double-seam technology are the distinguishing features of HARD SPORT bunkers.
In the future, we will tell you about the everyday life and the triumphs of the paintball team, how their training is held and many other interesting details.